Now 25% Brighter! The Frezzi SunLight is a breakthrough light with the unmatched output of a 600W HMI and new proprietary Directional Focusing LED design that adjusts the beam pattern without the use of high loss lenses or optical shaping filters commonly used to control LED beam pattern that reduces output significantly. Using the latest state-of-the-art 93 CRI 5500 K broadcast quality high-output LEDs and ultra-efficient highly polished internal reflectors, the SunLight captures 100% of the usable LED light and projects where you want it. The beam pattern is adjustable with a precise directional focusing control from its native 20 degree spot to a spreaded flood ideal for all shots even in full sun lighting applications.
With the SunLight, there is always enough output for applications where HMI's are typically required but without the harmful UV emissions, external heavy ballasts, dangerous heat or expensive and fragile HMI lamps and inability to run on DC. The Frezzi SunLight can operate on AC or DC with HD broadcast camera batteries giving a run time of 45 minutes. It's rugged, fully weatherproof with a full range of accessories and 100% dimmable for the ultimate in portable high-output field lighting. Compared to the other industry LED lighting the SunLight is half the size and weighs only 6.5 pounds for easy stand mounting and transportation. With 50% more output at comparable beam angles its unmatched for ENG/EFP work.
• 600W HMI Type Output- Over 1,000 fc at 10 feet
• Worlds First Direct Focusing LED without the use of filters
• 45 Minute Run Time with 2 Frezzi HD-150 Batteries
• Weatherproof and ruggedized all aluminum chassis
• Lightweight and compact only 6.5 pound fixture
• Instant on and runs cool – fast setup and break-down
• Compact full loaded AC/DC travel kit with HD stand
• Travel friendly NiMH battery safe for air transport
• No harmful UV radiation
• Saves money - no bulb replacements or ballast repairs
• Full 100%-0 Dimming without color shift
• Integrated LED voltmeter for battery/power supply status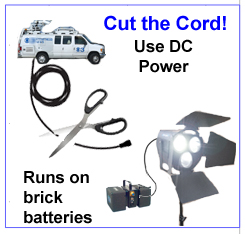 Perfect for when remotes are too far from
the live truck.