Introducing our new line of replacement batteries

and chargers

for Sony* cameras. Our batteries are designed to provide higher capacity, longer run times and lower cost than the original Sony* batteries, ensuring that you can enjoy longer recording times without breaking the bank.

Our batteries are made from high-quality materials and have been rigorously tested to ensure optimal performance and reliability. They are designed to be fully compatible with Sony camcorders, so you can be confident that you are getting a product that is tailored to your needs.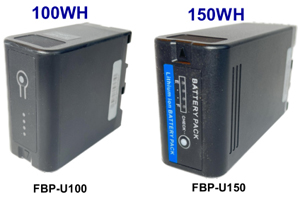 In addition to our batteries, we are also proud to offer our dual channel charger, which is compact, lightweight and features a back-lit LCD display. This charger is the perfect complement to our batteries, providing a quick and easy way to charge your batteries while on the go.
For those looking for a complete power package, we offer a range of packages featuring our field-proven Pocket Light Tunable LED camera light. This light is perfect for handheld camcorders and ensures that you can capture high-quality footage in any lighting conditions.
FBP-U100 and FBP-U-150 are direct leplacement for Sony Batteries with longer run time and direct replacments for these batteries. BP-U35, BP-U60, BP-U70, BP-U90, BP-U100
Compatible with Sony Cameras EX280, EX160,
EX330, PXW-FS7K, PXW-FS7, PMW-300K1,
PXW-X180, PXW-X160, PXW-X280 etc